Dear Prospective Harbor Freight Associate,
At Harbor Freight Tools, we are passionate about one thing: making great tools affordable for our hardworking customers. We're looking for great associates who share that passion.
I started the company with my dad when I was 17 because we saw the opportunity to provide hardworking Americans with quality tools at affordable prices. I loved the idea of delivering value to folks whose work I respected in fields like carpentry, welding and auto repair.
Today, we are still a family-owned company, and we treat our 20,000 associates like family. We have great benefits, flexible hours that allow you to have a life outside your job and opportunities for career advancement.
We are growing rapidly—we're opening two new stores every week and introducing hundreds of new products every month. We need great associates to join our family. I hope you'll consider a career at Harbor Freight Tools.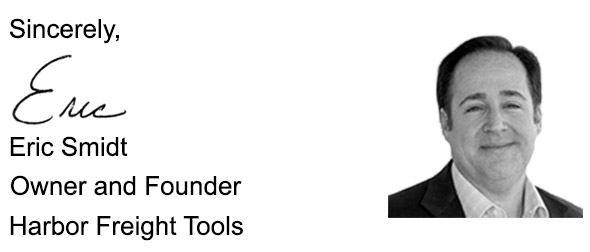 At Harbor Freight Tools, we defined a set of principles that are our guides, our aspirations, and our way of committing ourselves to excellence, improvement, and serving our communities. When you join the Harbor Freight family, you'll feel the difference working in a collaborative environment that holds ourselves accountable by these principles.
Excellence in Execution – We succeed by staying focused, getting things done and sweating the details.
Continuous Improvement – We constantly strive to improve.
Collaboration – We find solutions as a team.
Doing the Right Thing – We treat everyone fairly, reasonably and with respect.
Humility – We keep our egos in check.
Frugality – We spend every dollar wisely.
Community – We believe in giving back.
We value people above all else. We value who you are, what you've experienced, and how you see the world. We believe our differences make us stronger.