Our Culture
Our Values
Our values drive us in everything we do. A passion for excellence and respect for others are the most important tools in your toolbox, and at Harbor Freight, character matters.
Continuous Improvement
Doing the Right Thing
Community
Excellence
Investment
Humility
Collaboration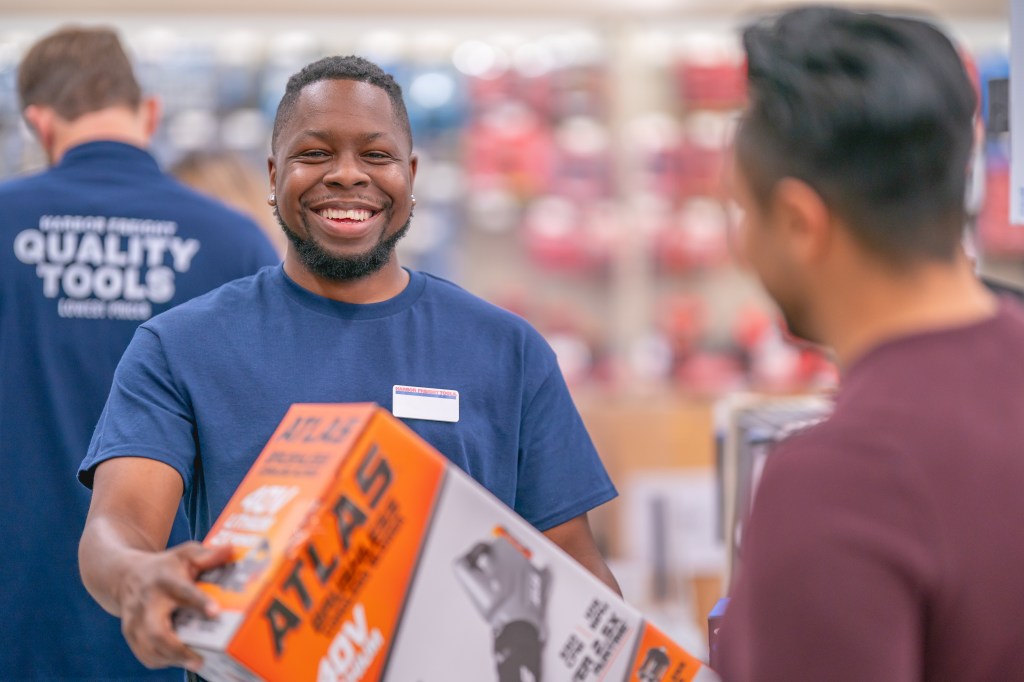 Who We Are
Our Mission
At Harbor Freight, we are committed to being a great place to work and a great place to shop. We're a people-first company dedicated to building careers for our championship team and offering unbeatable value on an unmatched assortment of tools for everyone from occasional users to the most demanding professionals.
Our History
Our Story
In 1977, Harbor Freight had a simple, but crucial mission: make it easier for working people to get the best value possible on top-quality tools they could trust.
With our team of 28,000 strong, Harbor Freight is the leading discount tool retailer in the United States with over twenty million satisfied customers.
We are one of the fastest-growing retailers in the country, opening two stores each week and have 1,400+ stores nationwide. Each location has a wide assortment of quality tools at the lowest prices you can find.
OUR PEOPLE STATEMENT
We value people above all else
We value who you are, what you've experienced, and how you see the world. We believe our differences make us stronger.
Here's what our people have to say about working at Harbor Freight:
"I am currently a Logistics Supervisor. I am comfortable in my role because it gives me great work life balance and a lot of time to spend with my family. I was a full-time warehouse associate for many years before I became a supervisor. I enjoy helping customers, the days are always different and I have great benefits. I love working at Harbor Freight."
Jesus Juarez
"I was hired as an Assistant Manager…and with extremely good training was able to get promoted to Store Manager after only one year. The best part of my experiences with Harbor Freight is the vast amount of people I've had the pleasure to work with. I still look forward to the challenges I will be presented every day. Harbor Freight has been an awesome experience so far, and I look forward to many more years to come."
Luis Cardenas
"Starting my career at Harbor Freight was a smooth and easy transition. The onboarding process and training really helped outline the type of career path you can expect to have here if your goals are to grow with the company. Every day was been an exciting challenge, new opportunities to bring ideas to the table, and teamwork and collaboration."
Tiffany Elmore
"When I had decided to look for a new opportunity a couple of years ago, I also decided that I would not compromise on certain things. I wanted to work for a place that put its employees and customers first. I wanted to work for a place that would both challenge and support me. I found all that and more with Harbor Freight.
This company cares about my ability to lead, and invests in that accordingly. I have truly found a place to call home. As long as I'm allowed to be here, I will always be here. I love my job. With all the unique challenges and ups and downs working in retail can provide you with, I can truly say that the support I feel with this company makes me #HarborFreightHappy!"
Chris Bunn
"I really support the vision here. If you're willing to work hard and be the best that you can, they acknowledge that. They promote from within, they pay for performance. I've been able to work with amazing people!"
Anthony Ponce
"I wanted to a part of a company that supported local communities and embodied servant leadership. I am happy to share that the company has surpassed all of my expectations. The positive atmosphere continues to remind me that I am part of something greater than myself, and I am able to make a meaningful contribution towards providing opportunities for others.
Throughout my career, I have experienced an overwhelming amount of support, mentorship and guidance. HFT has created a culture where I can be myself and I know that my unique experiences and perspectives are valued. I am as excited to work for HFT today as I was when I started this journey!"
Navin Prasad
"My journey at Harbor Freight has been one that has illuminated skills and passion within me that I didn't even know I had. I have never worked for a company who has valued my growth in such a way. I have had the privilege of working for managers who have not only encouraged my growth, but have propelled me into positions I didn't even think were a possibility for me. I have been transferred three times and each time I have gained more knowledge and empowerment. Growth is not just a gimmick to get you in the door; it is truly ingrained in the culture of HFT. Harbor Freight has changed my life for the better and I am honored to say that I am a member of a team that is built on passion for caring for one another."
Kalies DeBerry
"Harbor Freight truly invests in their people. I'm proof of that. HFT has given me the opportunity to be promoted (twice), relocate, lead various teams, work with our corporate partners and continue my professional development. I love working for the company. I would recommend HFT to anyone looking for a place that offers a welcoming environment and opportunities for continued career growth!"
Jason Roman
"I work in the Call Center where I was promoted to Customer Support Supervisor. This company means a lot me. I've learned so much and I've been given opportunities to grow professionally… I consider HFT like my home… everyone is like my family."
Lorena Guillen
"I started my career through a Temp Agency as a stocking associate in Moreno Valley. I am now an Area Manager. My growth would not have been possible without the leaders that believed in me and encouraged me. I love working for a company that embraces its values and leads by example."
Alan Witt